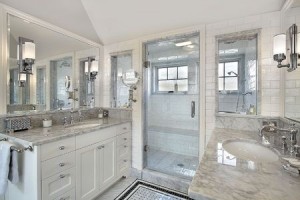 When it comes to buying a home, practical decision-making and emotions are intimately connected. Buyers may be looking for a gourmet kitchen or a beautiful bath, but little luxurious touches can be enough to convey the enviable lifestyle they want. Contrary to what you may think, creating an upscale look doesn't have to come at an upgraded cost. Consider adding some of these affordable luxury items to stage your lifestyle sale.
Bath bliss. Baths are major selling features for homes, so why not create a spa-like feel to sell yours? This can be achieved by upgrading to fancy towels and purchasing some designer bath salts to display. Prospective buyers will envision themselves in a relaxing retreat.
Bedroom beauty. Luxury linens in the bedroom can help you achieve the look of a four-star hotel without taking out a second mortgage. Add some mood lighting, candles and satin pillows, and you'll be selling sweet dreams.
Kitchen couture. Displaying some gourmet items in your kitchen will be sure to whet the appetite of potential buyers. A new espresso machine or elegant wine decanters on the counter will be a recipe for top-notch entertainment and relaxation.
By doing a little bargain shopping, you can achieve the luxury look for less. Peruse websites like Overstock.com or discount stores like HomeGoods to get designer-label goods at lower prices. This small investment may pay big dividends when you sell your home.